Famed politician Edwin Edwards once said, "Never be caught in a hotel room with a dead woman or a live boy." For some, it has been considered the cardinal rule of politics since.
He also allegedly broke three state laws, all felony-level crimes.
Shortey is charged with engaging in child prostitution, engaging in prostitution within 1,000 feet of a church and transporting a minor for prostitution. Bail was set at $100,000.
Prosecutors specifically allege in the case that Shortey offered the teenager "money in exchange for sexual contact." That he knowingly took the teenager to the hotel room "for the purpose of engaging in prostitution." They allege the hotel is within 1,000 feet of the First Christian Church in Moore.
The maximum punishment, if convicted, is 25 years in prison.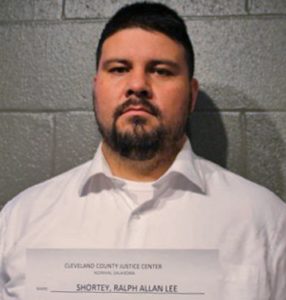 The evidence against Shortey includes a graphic online conversation where the two discuss having sex and smoking marijuana.

He did surrender himself to the authorities on Thursday and after 2 hrs, was released on $100,000.00 bail.
In addition to being censured but not removed by the State Senate the Governor, Mary Fallin, has called for his resignation.
Fallin stated:
"Ralph Shortey should resign his seat in the Senate. The charges against him do not reflect the character and decorum that we expect of an elected official. It is not acceptable," Fallin said in a statement provided by her office. "In the meantime, there's a criminal justice system in place to review the allegations. We should respect the process and allow it to work as designed."

Lt. Gov. Lamb has also asked for his resignation.
"Oklahomans deserve to be represented by those above reproach. Ralph Shortey has clearly failed to achieve this minimum standard and had rightfully lost his senate privileges," Lamb said in a news release Thursday morning. "As a former law enforcement official, I commend the swift actions of the Moore Police Department and the Cleveland County District Attorney's office."
As lieutenant governor, Lamb also serves as president of the Oklahoma Senate.
Senate President Pro Tem Mike Schulz asked for his resignation.
"In light of the criminal charges filed against you today, I respectfully request on behalf of the Oklahoma State Senate your immediate resignation as senator of District 44," Schulz wrote.